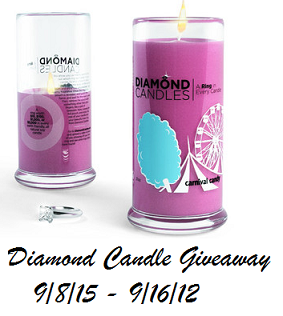 My Frugal Wife and Giveaway Overload have teamed up with a few great blogs in order to bring you a Diamond Candle Giveaway.
I love Diamond Candles, they are soy based candles that fill the room with a light scent that is not overpowering. For those of you that are not familiar with Diamond Candles, each candle contains a ring inside it, each ring is worth anywhere from $10 to $5,000. One lucky winner will win a Diamond Candle with their choice of scents. These make amazing gifts! With Christmas right around the corner this is an awesome giveaway! Or make a great gift to yourself! They have several scents: Summer Time, Strawberry Bliss, Misty Dawn, Carnival Candy just to name a few. Use the Rafflecopter below to enter!
a Rafflecopter giveaway
My Frugal Wife is responsible for the fulfillment of this prize.